Studios - Gremlin Interactive
Title: Studios - Gremlin Interactive Author: mgarcia Date: 2019-06-02 16:14 +1000 Tags: Community, Studios, Newsgroup Comments: Open
---
| | |
| --- | --- |
| Your browser does not support the audio tag. | |
---
Net Yaroze members at Gremlin Interactive
wikipedia: Gremlin Interactive: "Infogrames Studios Limited (formerly Gremlin Graphics Software Limited and later Gremlin Interactive Limited)[1] was a British software house based in Sheffield, working mostly in the home computer market. Like many software houses established in the 1980s, their primary market was the 8-bit range of computers such as the ZX Spectrum, Amstrad CPC, MSX, Commodore 16 and Commodore 64. The company was acquired by French video game publisher Infogrames in 1999, and was renamed Infogrames Studios in 2000. Infogrames Studios closed down in 2003. "
---
James Sutherland
James Sutherland (~jamess)
Quote-

 
When I started at Gremlin, I worked on a PS1 Zool sequel (canned), 
a Realms of the Haunting sequel (canned), 
Actua Soccer N64 (canned) and an original game called Angel's Wake (canned). 
I then moved to Rage and worked on a game called Battle Rigs. It was canned.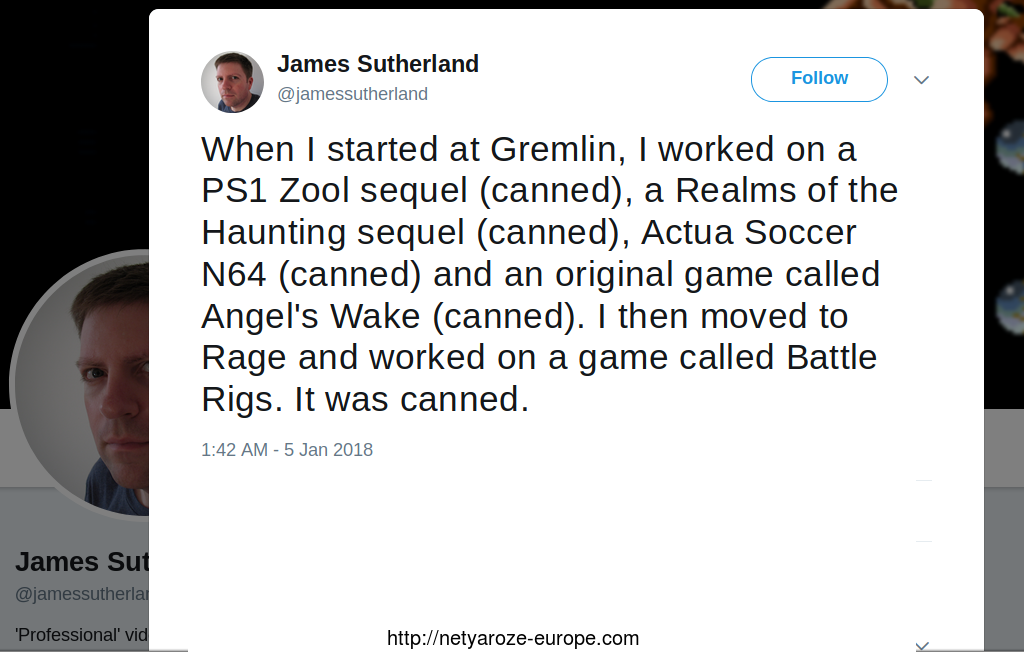 source: twitter @jamessutherland

---
Jonathan Watson
Jon Watson http://www.netyaroze-europe.com/~jonwat
Jon did the front end for Actua Soccer 3.
Source the Net Yaroze Newsgroup:
 
From- "Jon Watson" 
Date- Thu, 2 Jul 1998 21:03:37 +0100

Hiya all,

I develop games for the playstation on a 'proper' dev kit using sn's
wonderful psy-utilities.....well as a bit of a hobby i've bought a yaroze to
see what its like....

Anyway, what I'm really after is this -
Is there a way of incbinning data files through the gnu assembler like there
is on asmpsx which comes with the devkit?  It seems such a hassle having to
manually load things into specific parts of memory....

Just in case anyones interested....I'm currently working on the front end to
Actua Soccer 3.

Thanks,
Jon Watson
Gremlin Interactive

---
John Blackburne
From John's blog Dec. 1998:
 
I've been back in the UK for over 8 months, four of which I spent working for Codemasters, 
on a PlayStation product which I cannot discuss as it is still under wraps. 
Unfortunately my relationship with Codemasters did not work out and I am now looking for work again.

I've continued working on my own software, making progress on The Red Project. 
I've just bought a Net Yaroze and am investigating porting this program to it. 

In 8/2/2002, John's posted in the public Net Yaroze newsgroup, with this footer:
John Blackburne; programmer, The Pitbull Syndicate
<http://www.hk.super.net/~johnb>
---