PlayStation Gamemaker Disassembling Net Yaroze
Title: PlayStation Gamemaker Disassembling Net Yaroze Author: mgarcia Date: 2019-08-21 13:35 +1000 Tags: Images Comments: Open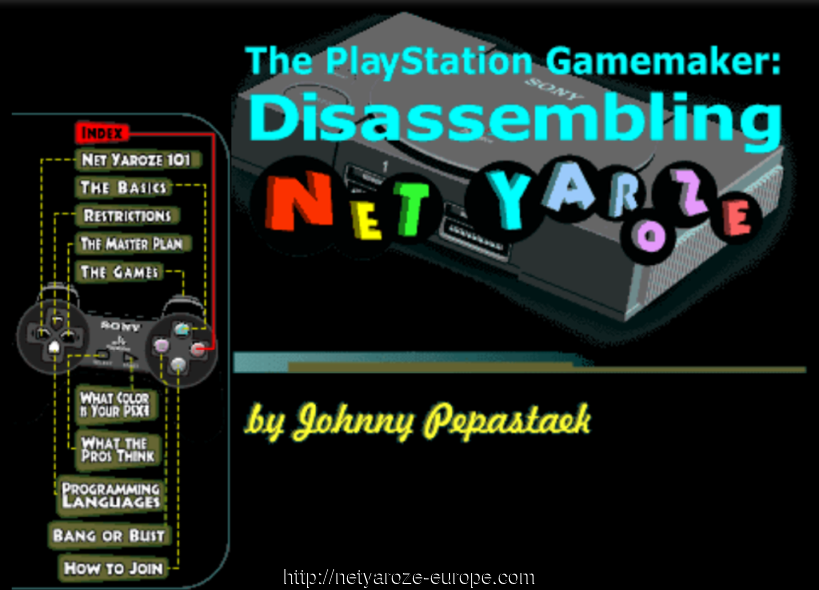 Click to view original image: 517kb
Full article: The PlayStation Gamemaker Disassembling Net Yaroze By Johnny Pepastaek
1 comments on "PlayStation Gamemaker Disassembling Net Yaroze"
mgarcia:

2019-08-21 13:35 +1000

The PlayStation Gamemaker: Disassembling Net Yaroze

By Johnny Pepastaek

Black. The color itself evokes an aura of mystery, danger, and mystical power. That's why black cats portend bad luck, why ninjas wear black, and why Knight Rider's car, KITT, is painted black rather than, oh, say hot pink.

Add to that list the Net Yaroze PlayStation ("yah-row-zei" stems from a Japanese verb that translates into English as "let's do it together"). Black rather than the generic gray of ordinary PS systems, the Net Yaroze PS looks more like a deadly gadget devised by James Bond's equipment man Q than a video game system. But of course the Net Yaroze PS is more than just a console; it's a device that will give gamers the chance to do what couldn't be done for more than a decade: create their own PS video games.

Net Yaroze is "a hobbyist's program," stressed Molly Smith, SCEA communications manager. "It's to instill and create a community of people who love games, people who want to work with our architecture. We didn't develop the program to do anything more or less."

Fair enough. But that space between "more or less" is quite a subject. Want to know more? We knew you would.
---
Comments are open.