Paul Holman - Director of Technology - SCEE
Title: Paul Holman - Director of Technology - SCEE Author: mgarcia Date: 2019-07-07 18:22 +1000 Tags: Community, Members Comments: Open
---
| | |
| --- | --- |
| Your browser does not support the audio tag. | |
---
Paul Holman - Director of Technology - SCEE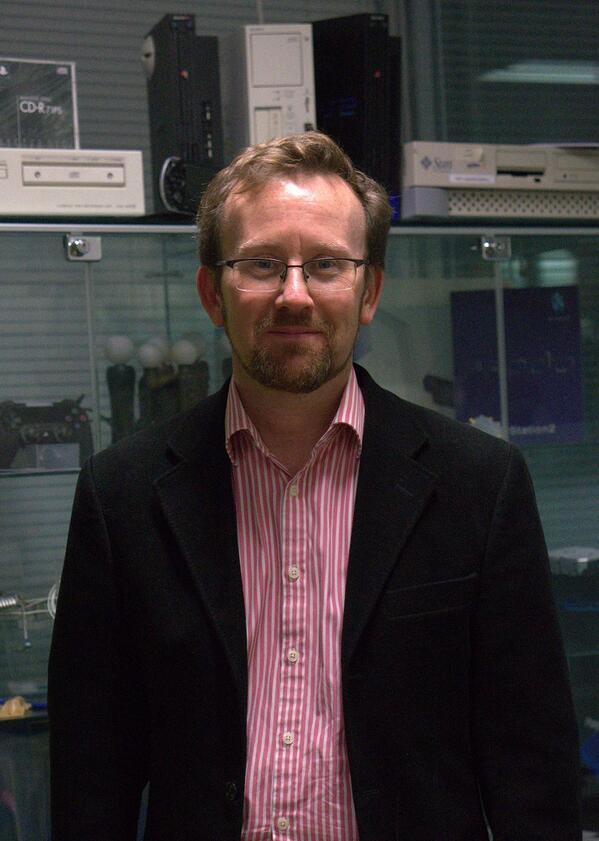 Paul Holman was the Manager of Developer Support and Director of Technology for SCEE (Sony Computer Entertainment Europe).
He was the head of the PAL region Net Yaroze program, which not only included the UK and Europe, but also other PAL territories like Australia, New Zealand and parts of Africa and Middle East.
From the Gamasutra article 15 Years Later: How Sony's Net Yaroze Kickstarted Indie Console Development by John Szczepaniak
Quote-


Net Yaroze was reportedly the idea of PlayStation creator Ken Kutaragi, and while the project may have been Japanese, it came with a distinctly British influence. 
Paul Holman, current vice president of R&D at Sony Computer Entertainment Europe, was head of the UK Yaroze division.

"Although the idea would have been approved by Ken," says Holman, 
"I worked directly with my counterparts in Japan to discuss the practical details. 
The goal we shared was to allow interested consumers to create their own games on PlayStation using something similar to the professional developer environment. 
I'd grown up in the days of the BBC Micro, so it was for me very much providing this sort of experience to this generation."

Paul was also involved in the development of Official PlayStation Magazine (OPSM) cover CDROM's.
His name appears in the credits of Euro Demo 2:
Quote-


On this disc, a file called FUTURE.TXT is located in the root folder which contains the credits for the demo disc itself:

        FUTURE DEMO DISC - ISSUE 2

Producer:    John Roberts
Programmers: Vince Diesi/Paul Holman
Artist:      Pete Johnson
Sound:       Harry Holmwood

---
1997 - Net Yaroze SCEE launch presentation
Typowy - PsxPower : PSX - Paul Holman : Net Yaroze
Transcript-


Hi my name is Paul Holman and I'm the manager of developer support and also technology here in London for Sony.
Well, Net Yaroze, I think it's important to know that they're actually two distinct halves to it.

Firstly, Sony is providing a tool whereby people at home can create their own 3D worlds, their own 3D games and anything they want to do, total freedom.
The second important aspect is that Sony provides an infrastructure whereby people that can actually share both their technology, 
the work they produced and their ideas with other people around Europe and around the world, who also got these Yaroze systems.

In order to use Yaroze, the most important thing is that you have to have some degree of programmability already, 
ideally in the C programming language which is the language used both for Net Yaroze but also for 
the standard development systems that people create such classics as wipeout 2097 with.

In terms of the equipment you will need to actually start programming with Net Yaroze.
Firstly get a hold of a PC, it can be a basic secondhand 486. All you're going to be doing on it is actually programming and 
cross compiling using the tools and libraries that Sony provide. All the actual hard work is being done by the Net Yaroze PlayStation 
which is provided with the starter kit.

In terms of the software that you'll need to actually start programming with Net Yaroze.
Sony provides all the tools and libraries and compilers that you need to get started. 
In addition, to make the most of the system we recommend that you obtain a decent 3D modeling package and perhaps a simple paint brush package as well.

In terms of pricing, Sony is marketing the Net Yaroze starter kit at 549 pounds.
In addition to be able to do your own programming at home, create your own games and demos, you can also be able to play all the standard PlayStation titles.
One important key difference is that, in addition to all the titles that are produced in Europe, you'll also be able to play titles from America and Japan.

In terms of ordering you can either contact us through our website or by our special phone line which is 07000 YAROZE or you can do it by direct mail.
As soon as we receive your letter, will actually send you a complete, sort of application pack, which you can fill in, 
provide with your check details or your credit cards and send it back to us.

As soon as we heard about Net Yaroze being launched in Japan, we realized how valuable it would be for UK based programmers.
In the UK we have a wonderful background in creating excellent titles and for the last three or four years people starting out 
simply have been unable to afford the development systems that they need to create examples on this sort of platform, now they can.
Net Yaroze provides them with the ability to actually start programming at home, build up the skills they need and from then (they can) 
this will serve as a launch pad to get into the games industry.


Paul Holman also appears in many PAL region magazines including UK's and Australia's OPSM (Official PlayStation Magazine) and Hyper Magazine (Australian).
---
1999 - Net Yaroze Welcome Letter
A Net Yaroze Welcome Letter signed by Paul Holman.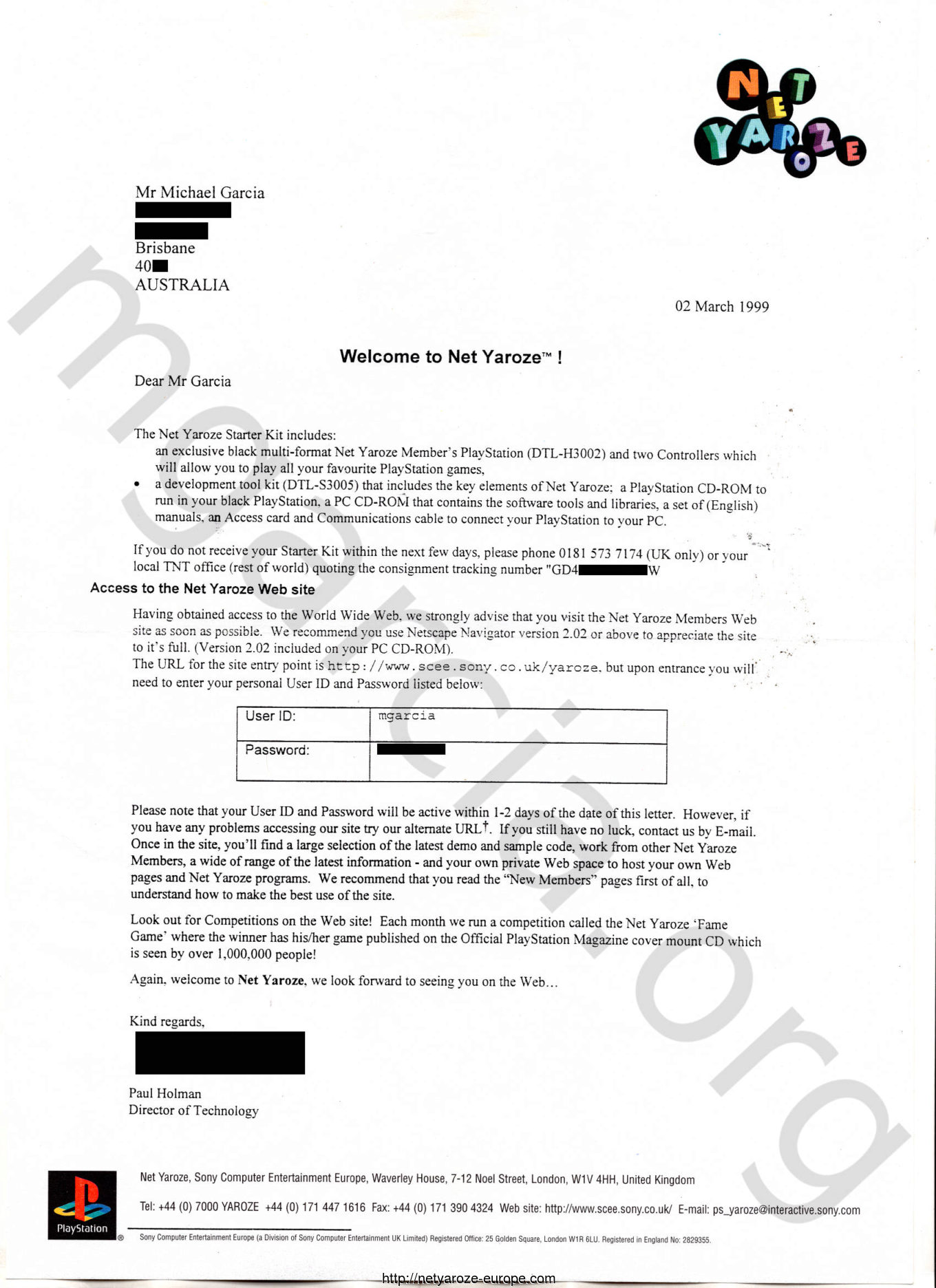 See The Net Yaroze Welcome Letter
---
2009 - Announcement of the Net Yaroze SCEE server closure
Paul announced that the UK/EU/PAL region server (http://netyaroze.com) would be shutting down permanently.
Will Freeman posted the news at Develop Monday, 29th June 2009 at 10:58 am.
Quote-

 
End of an era for Sony's homebrew community

After 12 years, Sony's Net Yaroze Programme has come to an end.

Started in March 1997, the PlayStation project was designed with the goal of making modern console development accessible to non-professionals.

For many, it offered a unique opportunity to learn about developing for the most popular console at the time – indeed, many of the original members used their experiences with the service as a stepping stone to entering the industry.

Subscribers received special devkits and access to an online message board and community site.

But after a dozen years service, the ageing Netyaroze-Europe server is at the end of its life, and SCEE are planning to turn it off in July, the company tells us.
"We plan to make a copy of the site available for our original members," explained SCEE R&D;'s Paul Holman.

He also said that a drinks party to celebrate the programme's achievements for its original members will be held at either Develop in Brighton or SCEE's London office.

More can be read about Net Yaroze (linking to http://netyaroze.com) at its official websites.


1 comment: 
good times.. learning C
posted by mgarcia Jul 02, 2009 at 2:51 am

end of an era... oh well.. this site isn't required by the PS1 so
it can still be used.. I still got mine, with everything.. if anyone
is interested.. let me know: mike (at) mgarcia (dot) org


Personal side note-

I (~mgarcia) wrote that comment in 2009, it sounded like I wanted to sell it, but I don't ever recall wanting to sell mine. It's one of those things I always pack when moving.
It was also mirrored on MCV UK.
---
2013 - The Sun Ultra5 that ran the Net Yaroze webserver.
From a twitter conversation:
James Fairbairn asks-

"is that a Sun Ultra5? Takes me back to my sysadmin days, sigh..."

Paul Holman replies-

"yes, its our museum of #PlayStationDevKits (come see it!). The Ultra5 ran the webserver for our Net Yaroze site"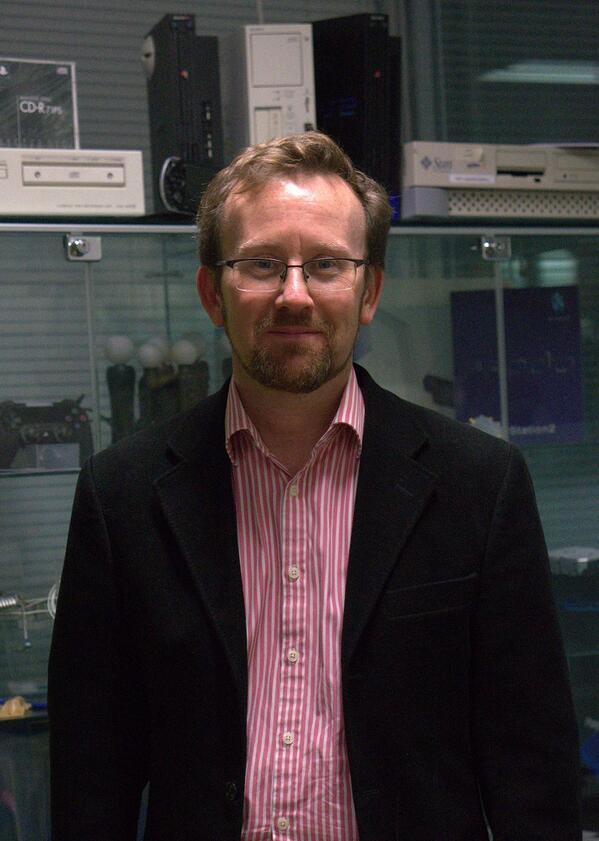 Image source: Paul Holman @pdyholman 13 Nov 2013
---
2019 - From bedrooms to billions - The PlayStation revolution.
Paul appears often in the documentary called From bedrooms to billions - The PlayStation revolution, there is also a nice Net Yaroze extra feature.
The clip below was part of an early teaser video from the kickstarter update page.
Paul Holman clip from The PlayStation Revolution documentary
---